Biography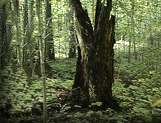 In november 1993, Malvery was lead by
the founder member Alex Turbide. Since the formation of the
band, before accessing the actual concept, Malvery had
to progress from different music style: from agressive
speed metal to dark death metal. They had to do
alot of line up changes throught the last years.
In 1994, the arrival of the singer-lyric composer Mario Milette,
completed the actual formation. In the past three years,
Malvery acquired alot of experiences and maturity as much
on the scene as on the musical concept; which gives them
the necessary tools to be part of the international scene
and from this fact, becoming professional artists.
-Biography by Malvery